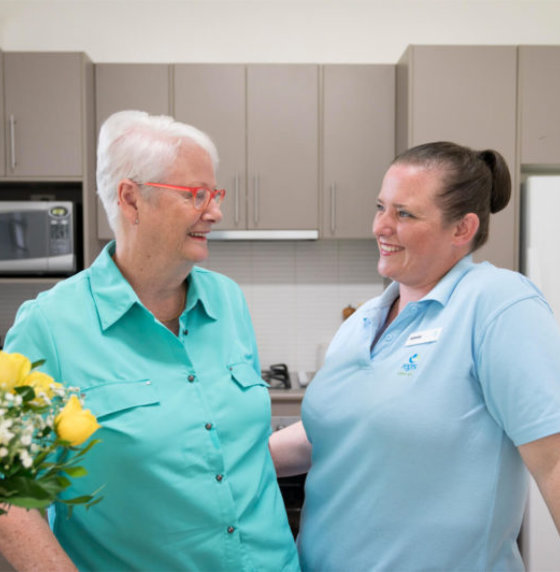 11 Creswell Street, Tiwi NT 0810
Darwin
Delivering quality home care services to the Northern Territory's capital
From our dedicated Regis Tiwi base, Regis Home Care's team of committed, skilled, and friendly professionals provide a range of in home services to Darwin residents. Our highest priority is providing you with care services that best suit your needs, whether simple or more comprehensive, without requiring you to sacrifice the comfort and privacy of living in your own home.
The in home care services we offer Darwin residents varies from general assistance around the house, right through to 24/7 care. Whatever level of support you require, our convenient location in Tiwi Gardens makes it easy for us to cater to your needs.
If you'd like more information regarding fees you can download Home Care details here:
Regis Home Care Pricing Sheet (PDF)
Benefits of our Darwin home care services
By enlisting the help of Regis Home Care Darwin, you'll get to enjoy a number of benefits, including:
The convenience, comfort, independence and privacy of living in your own home is all still available to you, but with the added support needed to make sure you're living the best quality of life possible
Flexibility in choosing the best in home care packages or individual services according to your specific requirements. Government funding is also a possibility for those who are eligible
The assistance you need to start living your best quality of life possible, whether that's through some minor help with errands and cleaning, 24/7 care, or something in between
Home care services available in Darwin, Northern Territory
Regis Home Care offers a variation of home care services and packages, to make sure you have full flexibility in choosing the right option for your needs and budget. Options include:
24-hour in-home care: For more serious or comprehensive needs, 24/7 care provides the ultimate peace of mind that you or your loved one will be properly cared for around the clock
In-home dementia care: The demands of caring for someone with dementia can be quite high, which is why the support our team of professionals provides is so invaluable
In-home disabled care: You can benefit from dedicated disabled care services that include transportation, house cleaning, personal care, meal preparation, and more, all within the comfort of your Darwin home
In-home palliative care: Health complications can make it difficult to continue living in your own home, but our in-home palliative care ensures you can do just that. Our team ensures you receive proper medical assistance without the need to live in a hospice
In-home respite care: For those carers who require part-time relief, our respite care is the perfect solution. You can rest easy knowing that your loved one's care is in the best possible hands
Privately Funded Home Care: Whether you are eligible for Government Funded Home Care or not, if you would like to fund your home care yourself you can. All Regis' Home Care, Home Help and Companionship services are available for anyone wishing to privately fund their home support needs .If you choose Privately Funded Home Care, you don't have to wait for government approvals- your services can start immediately.
Privately Funded Home Care also gives you greater freedom to choose how many services you receive and how often.
Complete home care packages: Regis Home Care provides complete packages that combine a number of services, to cater for the more comprehensive or well-rounded needs of our Darwin residents
And additional services
Some of the areas in Darwin we provide Home Care services to are Darwin Northern Suburbs, Darwin City Suburbs, Palmerston and surrounding areas.
Contact our Darwin Regis Home Care team today
To fully understand the ways in which our in home care services can assist you or your loved one's quality of life, don't hesitate to get in touch with our team. We'll be able to answer any questions you have, if needed help you apply for government-funding, provide understanding of fees and give personalized advice according to your specific needs.
Contact Regis Home Care in Darwin, Northern Territory today to Book a Free Consultation.