Our Definition
Sustainability is the term for all things that decrease our dependence on non-renewable energy and increase the idea of living within the means of our current environment without damaging it for the future. Sustainable initiatives should address the issues of ecological robustness, social equity and economic viability.
To Regis, sustainability is using natural resources to best effect and strive, through all our decisions, behaviours and activities, to be environmentally sound and economically viable.
Approach
We recognise that our company has an impact on our internal and external stakeholders including our employees, clients (who include our Aged Care and Retirement Village residents and Home Care clients), as well as the wider public and community. We are improving our sustainability approach to ensure we identify all our relevant stakeholders, our material sustainability issues and risks, and the initiatives through which we address and govern these issues.
On World Environment Day (2018), Regis launched our first Sustainability Program. The program marked a new chapter in our journey towards a sustainable future and was a first step toward establishing an appropriate framework through which we can begin to more accurately measure our progress in creating a sustainable business.
The protection of our environment is an important global and local responsibility. We want to continue to lead the transformation in how we live and use our resources in the future. Regis recognises the benefits of sustainability and the need to focus in reducing our environmental footprint as well as delivering homes that are more operationally efficient and improve resident health and wellbeing.
Recently Regis has significantly progressed on our sustainability commitments by implementing a number of projects and initiatives including:
establishing a Sustainability Steering Committee to monitor Regis' sustainability performance;
implemented the roll-out of over 17,000 LED lights and 1.6 MW of solar panels across more than 50% of our homes;
ran an employee engagement campaign encouraging environmentally conscious behaviours by our employees and residents.
Want to learn more about our sustainability milestones since the program launched? Click here (PDF).
Contact
For further information regarding sustainability at Regis, contact advice@regis.com.au
Governance
Environmental Sustainability Statement
As sustainability continues to rise on our agenda, appropriate governance is significant to ensuring that relevant emerging sustainability-related risks and opportunities are being managed. Our approach to sustainability is governed by our Environmental Sustainability Statement which outlines our commitment to effectively managing our material sustainability risks.
The Statement demonstrates Regis' commitment to having a sustainable approach to management by integrating environmental sustainability across all our activities as well as fostering a shared sense of responsibility for optimal environmental performance from senior management through to our employees and subcontractors.
Read the Environmental Sustainability Statement here.
Sustainability Steering Committee
The Sustainability Steering Committee ("the SSC") was established to assist in the development and implementation of Regis' Environmental Sustainability Statement and initiatives.
The SSC meets regularly and reviews short, medium and long term emerging issues necessary for shaping sustainability-related strategies and goals, as well as reviewing our sustainability performance on a quarterly basis.
Further information on the role of the SSC and its members is documented in the Sustainability Steering Committee Charter which can be found here (PDF).
TAKE2 Pledge
In July 2019 Regis Aged Care joined the Victorian State Government's climate change pledge program, TAKE2. Delivered by Sustainability Victoria, TAKE2 is a program that provides every Victorian business, local government, community organisation and home with the information they need to act on climate change.
Regis is one of more than 1,000 businesses that have taken the pledge and part of a 12,000-strong network of Victorians working together to achieve two important targets by 2050 – achieving zero-net emissions and keeping global temperature rise to under two degrees.
As part of the TAKE2 program, Regis will make a number of commitments towards implementing more sustainable practices in our business, including:
Installation of solar panels
Replacement of high-energy use lighting with LEDs
Education of employees and community on individual actions to reduce environmental impacts
We are currently rolling out 1.6MWs of solar and 17,000 LED lights across Australia.
By taking the TAKE2 Pledge, Regis is helping the state of Victoria achieve the collective outcome which is both good for the people and the planet.
For more on our pledge please click here.
You can also find our media release here.
Policies & Reporting
To continually improve our sustainability performance and engage our stakeholders and community in our journey.
Sustainability Report
Regis published its second Sustainability Report in October 2019. The report demonstrates our corporate responsibility through publicly reporting on our social and environmental performance and impacts.
The report:
identifies the sustainability issues that impact on the environment and community as a result of Regis' corporate operations and activities
describes Regis' journey towards sustainability, including past achievements, current initiatives and future aspirations
provides a 2019 sustainability snapshot.
You can read Regis' 2019 Sustainability Report here (PDF).

2019 Sustainability Snapshot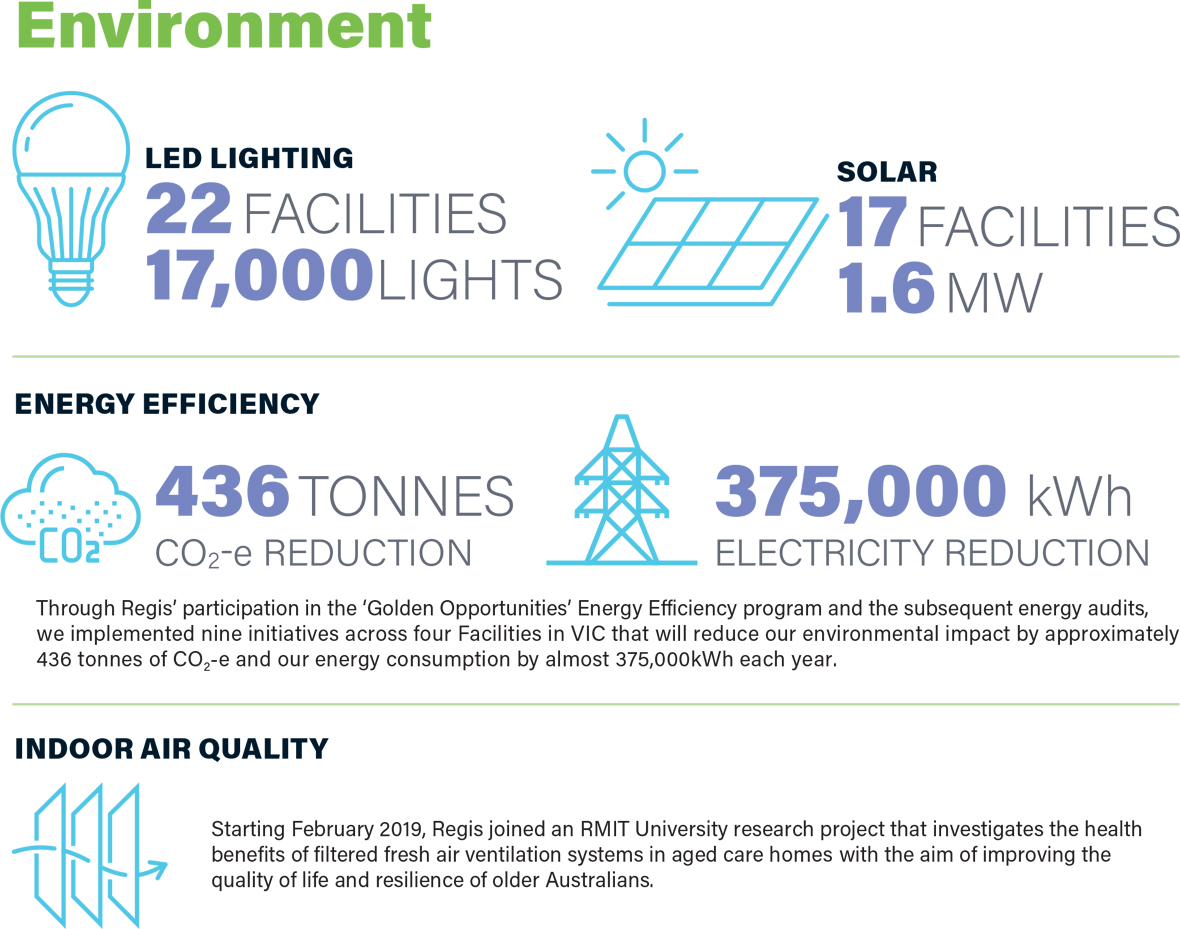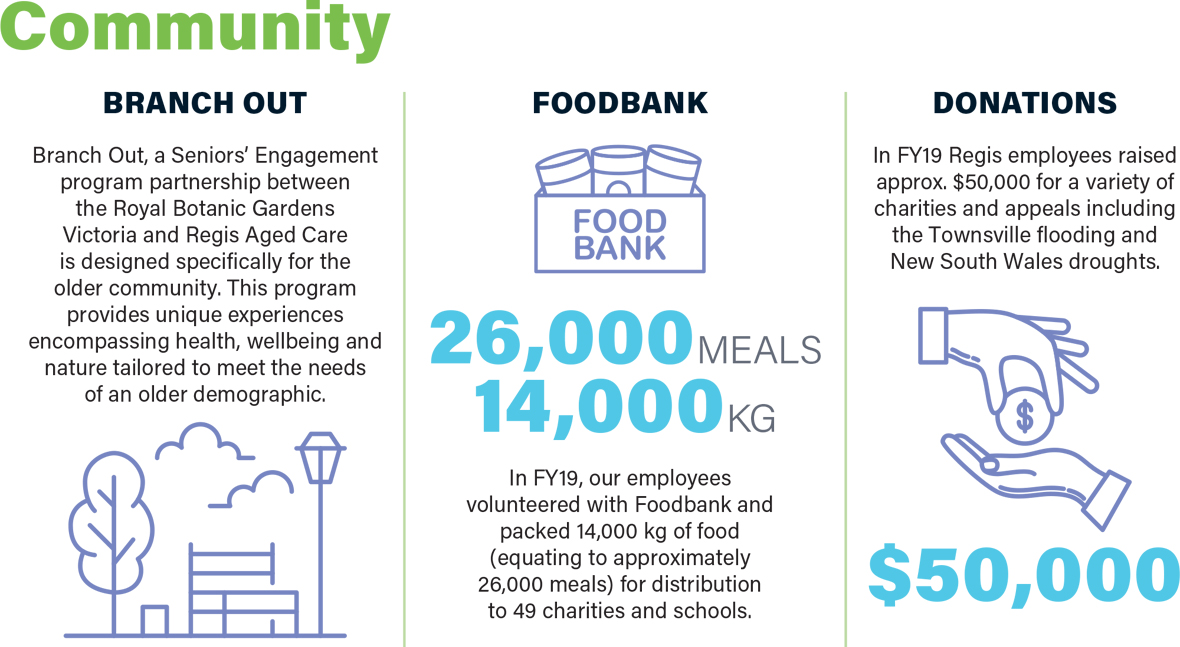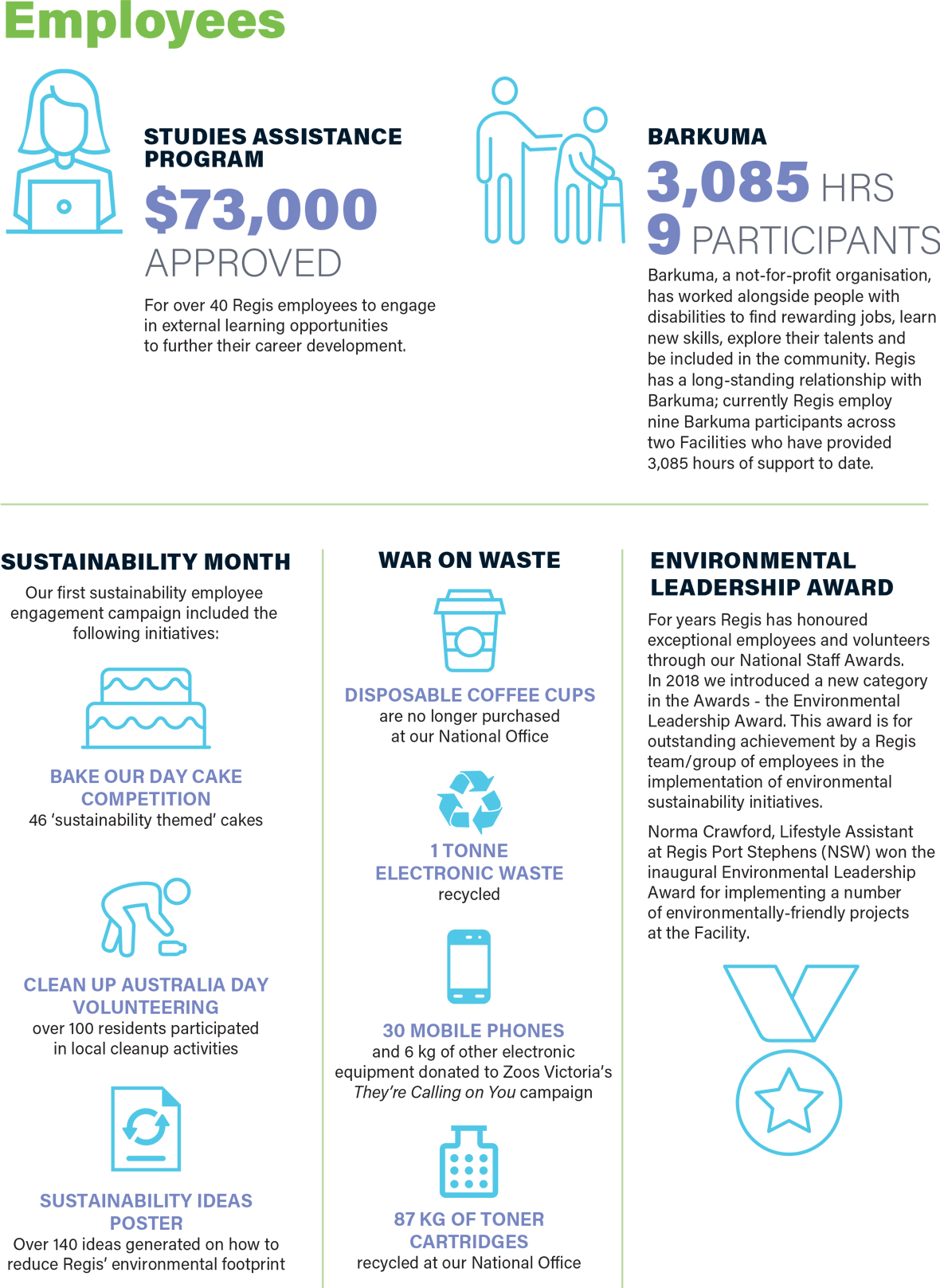 You can read Regis' 2018 Sustainability Report here (PDF).
You can read Regis' 2018 Sustainability Snapshot here (PDF).
Sustainable Operations
To ensure that we care for creation, use and dispose of natural resources responsibly and use products and services that contributes to positive environmental, social and economic outcomes.
Golden Opportunities Energy Efficiency Program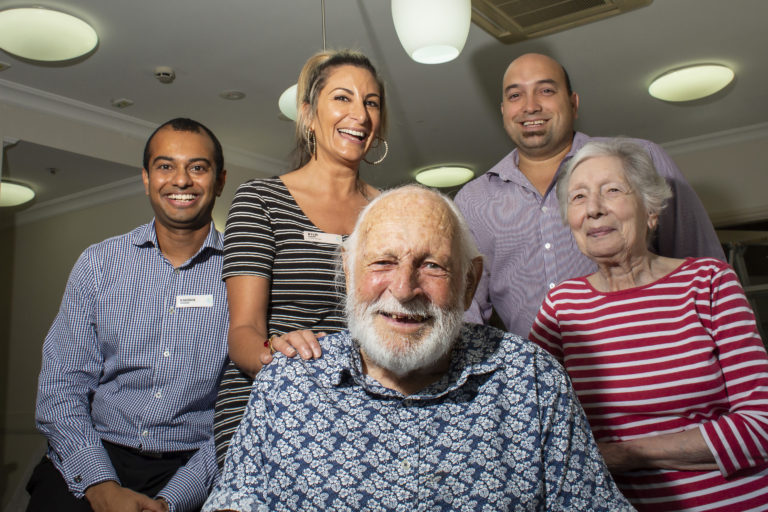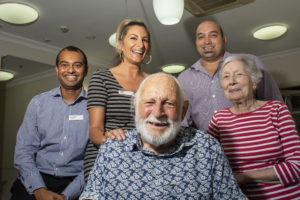 Regis took part in the Bayside City Council-led 'Golden Opportunities' energy efficiency program, designed for homes, in late 2018. This in turn led to successful applications for Sustainability Victoria grants.
Detailed energy audits were completed at our Brighton, Cranbourne, Frankston and Sandringham homes in Victoria. These audits identified opportunities to reduce energy use and costs while improving the comfort for our residents. Along with installing an energy efficient car park exhaust system, bain marie timers were installed for kitchen catering. Lighting has also been upgraded to LEDs across all four homes.
Through Regis' participation in this program, and the subsequent energy audits, we implemented nine initiatives across the four homes. These initiative will reduce our environmental impact by approximately 436 tonnes of CO2-e and our energy consumption by almost 375,000kWh each year. The energy saved is equivalent to the annual use of over 60 average homes in Bayside City Council.
Read Bayside City Council's media release here.
Read our feature in the Cranbourne Newspaper here.
Read the Sustainability Victoria Funding Grants story here.
Phase 1 Solar & LED rollout
In early 2019 we announced two major investments including LED lighting and solar installations across 35 Regis homes. This rollout, supported by approximately $1.2m in government rebates, is phase 1 with the remaining phases of upgrades across our portfolio expected to be complete in the next two years.
Regis partnered with Planet Ark Power to install more than 4,400 solar panels, capable of generating approximately 1.6MWs of electricity. Regis also partnered with Shine On to install over 17,000 LED lights.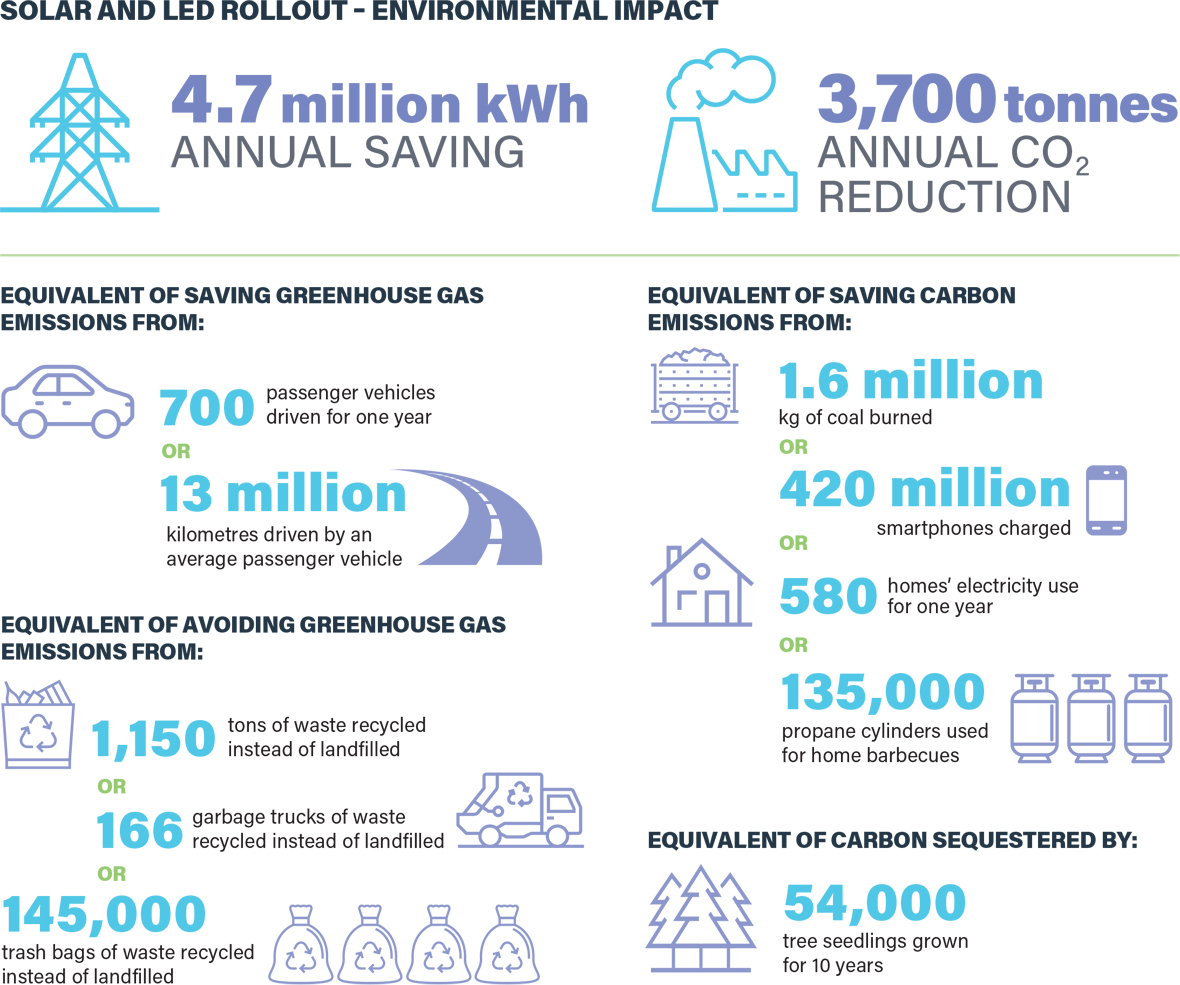 The Phase 1 LED and solar rollout was completed in August 2019. The installations are estimated to see an annual reduction of around 3,700 tonnes of CO2-e in greenhouse gas emissions across the 35 homes in New South Wales, Queensland, South Australia, Tasmania, Victoria and Western Australia. The investment in the program will pay itself off in just under four years.

You can read our media release here.
You can read additional stories on our solar & LED rollout from the following publications:
Ozone 'Envirosaver' systems
Since 2016 Regis installed EnviroSaver Ozone Laundry Disinfection in our onsite laundries with a total capacity of 3,008 kgs, across 47 homes. EnviroSaver is an ozone washing technology that utilises the technology of ozone resulting in impressive utility cost savings on water, waste, electricity and gas. Through the Envirosaver technology, we save approximately 77 million litres of water, 1.73 million KW/h of electricity, 19 million megajoules of gas, CO2 emissions reduction of 3,571 tons and circa $850,000 in expenses annually.
Healthy Facilities
To develop and improve our built environment in ways that promote wellbeing, and enhance amenity, function, resource efficiency, health and safety, and value.
Research – Indoor Air Quality and Impact on Health & Wellbeing
In February 2019, Regis signed on to a RMIT University research project that investigates the health benefits of filtered fresh air ventilation systems in homes with the aim of improving the quality of life and resilience of older Australians. This project is funded through the Victoria Climate Change Innovation program.
The CSIRO has estimated that the financial impact of poor indoor air quality may be as high as $12 billion per year. As part of the research, Regis will have monitors installed which will track enhancements in indoor air quality by monitoring a range of parameters including temperature, relative humidity, carbon dioxide concentration level, dust particles and pathogens. These measurements will be used alongside other qualitative methods to evaluate the health benefits of providing fresh air.
The research is being conducted at three Regis homes including Alawarra Lodge (VIC), Cranbourne (VIC) and Ringwood (VIC) and is expected to be completed in June 2020.
Read our media release here.
Read RMIT's media release here.
Regis Wynnum's Harvest Garden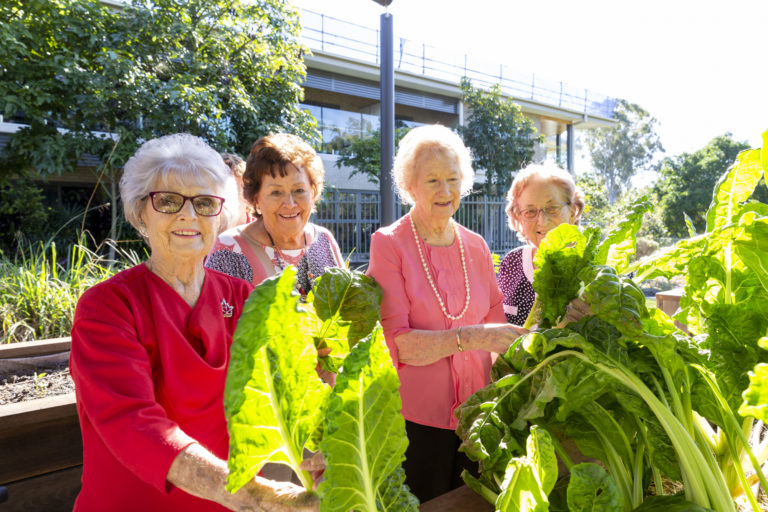 Regis Wynnum (QLD) launched their 'Harvest Garden' in April 2019. In early 2019, residents, during a meeting, were given the opportunity to begin a sustainable vegetable garden. The idea was well received, and in autumn, residents and employees started preparing the gardens with organic fertiliser and horse manure.
In April, the residents and employees had a 'sustainability day' to celebrate the opening of the Harvest Garden. The project has been a great success with the residents enjoying going out into the garden and growing their own produce to eat in their meals. To date, the Harvest Garden has yielded 10 kg of tomatoes, 15 kg of sweet potatoes, 10 kg of silverbeet, 30 kg of bananas, pineapples, bok choy, 12 kg of mandarins as well as cucumbers, thyme, French tarragon, rosemary, mint, sage, peas, red and brown onions and spring onions and rock melons! Wynnum also recently purchased a compost turning bin. The employees place kitchen scraps into the bin, in turn recycling or harvesting it back into the garden.
Scott Bailey, Facility Manager at Wynnum said "Having a vegetable garden means the residents get a chance to get involved in an enjoyable activity where everyone can join in regardless of their ability. They have a sense of pride in tending to their produce, get out into the fresh air, gather in groups and talk about their garden and importantly absorb an essential vitamin, Vitamin D, that everybody needs. Fresh food tastes so much better when you grow it yourself, and the residents get a lot of enjoyment out of the produce they look after and so do their families."
Helen Auld, a resident, provided some words to describe the Harvest Garden Project, which reads:
"We had an afternoon tea-party in the garden last week, which was very well attended giving people the opportunity to see our good crops of silver-beet, tomatoes, cucumbers, bok choy, and a variety of herbs. The highlight of the outing was the digging up of the sweet potatoes. Everyone wanted to get involved, while getting their hands in the dirt! It is good to know that some of the food on our dinner plates is home-grown. The newly planted seeds of onions and lettuce are quickly showing their colour. The flower garden is in its glory showing its vivid array of bright colours, to the enjoyment of all."
Engagement & Education
To embed sustainability into our decision making processes, promote organisational and individual learning, and to build a positive and enabling culture which fosters sustainable behaviour.
Sustainability Month
Our sustainability employee engagement campaign, Sustainability Month, ran in March 2019 as part of the Regis employee engagement program known as 'Regis Spirit'. The purpose of the campaign was to raise awareness of our impact on the environment. Three key initiatives were implemented during the campaign.
'Bake My Day'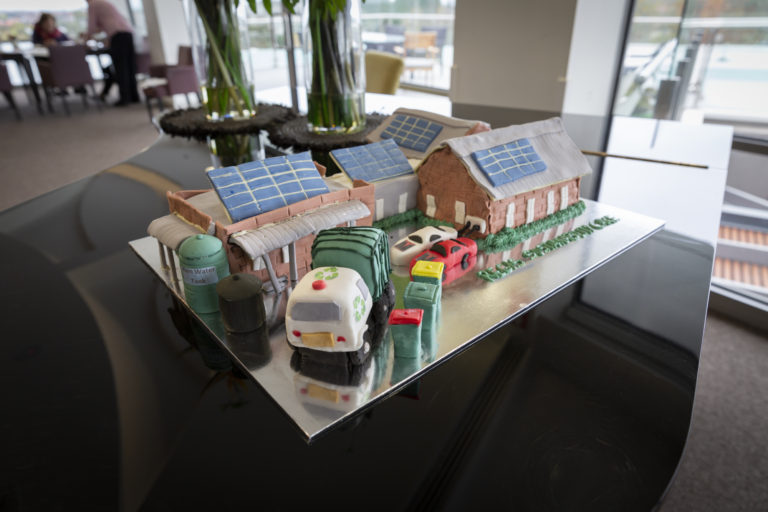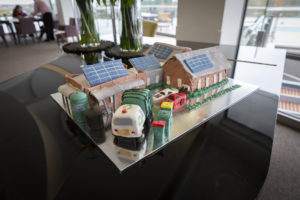 Regis ran a 'Bake My Day' competition for each home to choose a cake theme around sustainability, encouraging residents to submit a recipe and have it cooked by the catering team. Residents were also involved in decorating the cake.
A total of 46 'sustainability themed' cakes were designed and made during the campaign. The cakes were judged by the residents, families and Facility staff.
The four winning cakes were:
Burnside (SA) – Facility/Resident Participation
Marleston (SA) – Showcasing Technical Ability and Skill
Macleod (VIC) – Cake Originality Sustainability
Como (WA) – Sustainability
One of the winning cakes, Regis Macleod (VIC) was designed by their chef Jonifer Susi. He said "it was great to put our residents and staff ideas for a sustainable future in the form of a cake model of our proud home. As a team at Regis Macleod we have steadily been building towards introducing more and more sustainable ideas and we can't wait to introduce these to our lovely residents, families and staff. The cake itself took three days to make, patience and special attention to a vast number of sustainable ideas including electric cars, water tanks, recycling initiatives and solar panels, it was a lot of fun! I'd like to thank the Regis Sustainability team for involving all homes in this great initiative; it's amazing to see everyone get involved."
'Clean Up'
A Clean Up Australia Day volunteering event was held with residents participating in their local clean up activity across 10 homes including Regis Woodlands (WA), Regis Sandgate Griffith (QLD), Regis Armadale (VIC), Regis Port Stephens (NSW), Regis Kingswood (SA), Regis Ringwood (VIC), Eastern Shore (TAS), Burnside (SA), Regis Birkdale (QLD) and Regis Marleston (SA).
'Sustainability Ideas'
Each home held working group sessions with residents and employees and came up with ideas on how to reduce Regis' environmental footprint. A poster was developed and displayed at all homes for residents and employees to list their ideas.
The campaign was a success generating approximately 140 ideas relating to the following three environmental categories:
40% relating to reducing our waste to landfill
28% relating to reducing our energy consumption
11% relating to reducing our paper consumption
21% relating to other environmental areas.
As part of this campaign, we will aim to better understand our waste performance in FY20.
Case Study: Sustainability Art Exhibition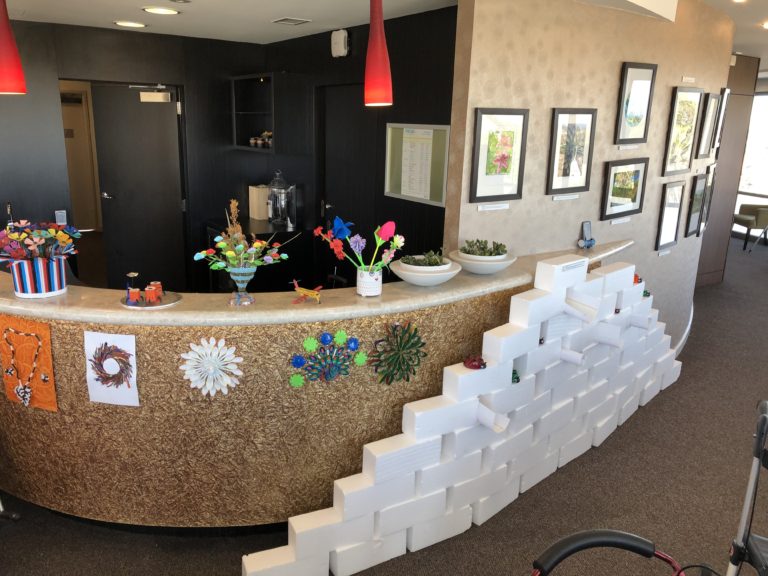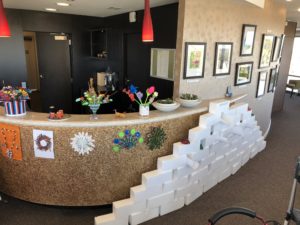 Regis Armadale (VIC) hosted an art exhibition in April looking at the environment, nature, use of recycling and making a difference to our planet. Residents, family members and employees exhibited 15 framed artworks highlighting sustainability including recycled materials, poems etc!
Case Study: Friendship Quilt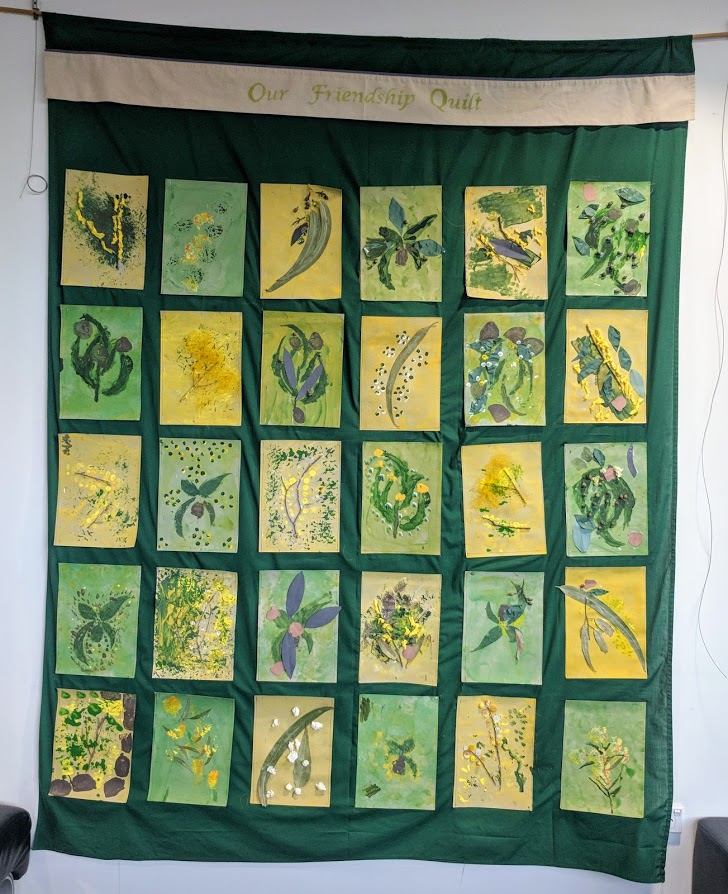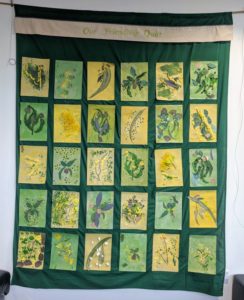 As part of our intergenerational program a small group of Regis Milpara (VIC) residents visit the Starfish (Blackburn) Early Learning Centre on a regular basis.
In 2018 they participated in a sustainability art show 'Up cycling as a Lens for Art' Run by Environmental Education in Early Childhood ("EEEC"). This was a wonderful opportunity for Regis to showcase our work with the children and our commitment to sustainability. Over a month the residents and children worked together to make a 'Friendship Quilt'. Residents and children worked on the art piece using recycled materials from op-shops including twigs, leaves, old curtains etc.
The result was displayed in September for a month in the 'Walk of Art' Space in the MC Square Building (VIC). Our residents enjoyed the creative process and particularly enjoyed working with the young children and seeing the finished product.
War on Waste
Regis National Office ran a 'War on Waste' campaign in FY19 with various initiatives occurring throughout the year, including: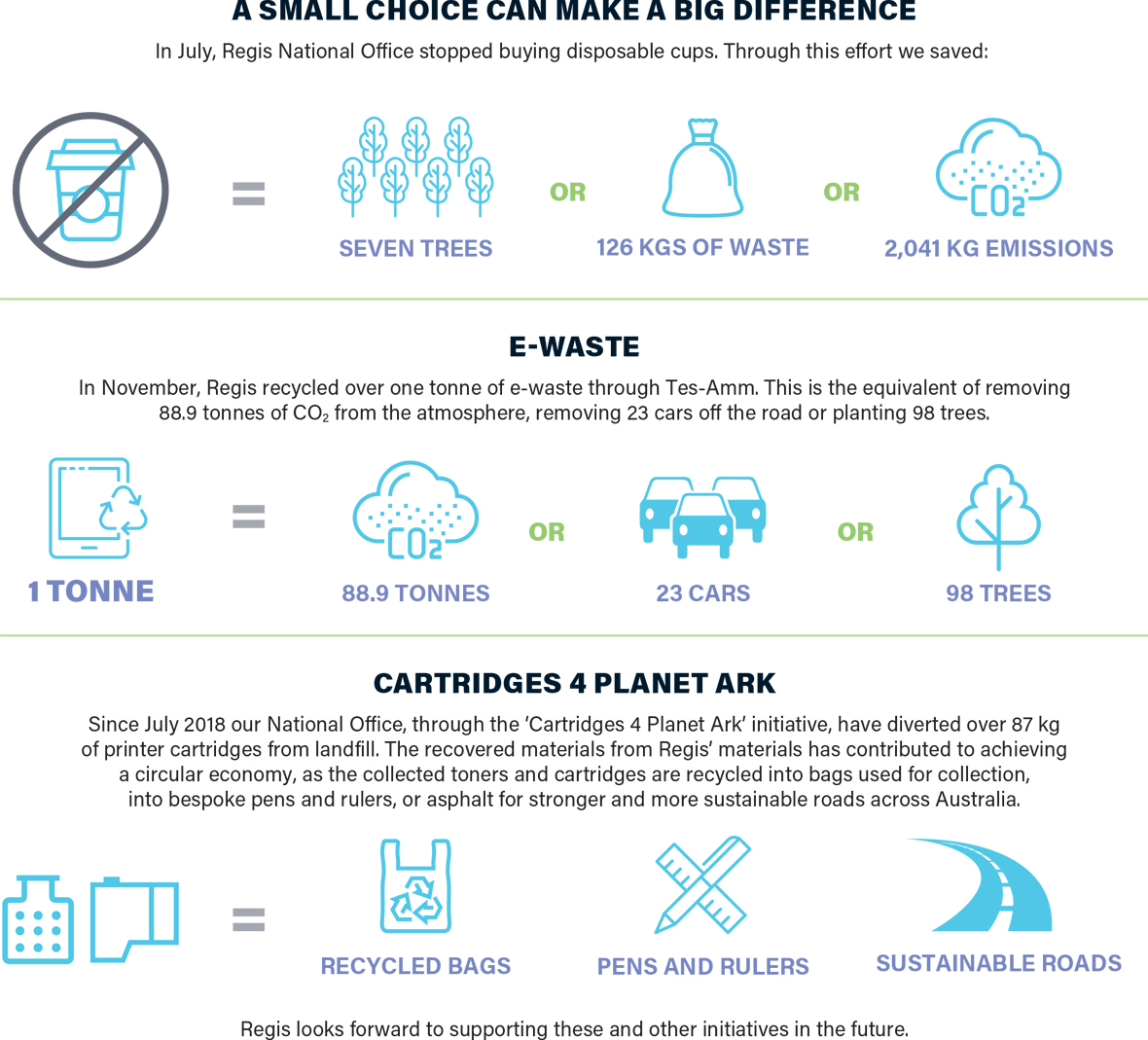 Regis Woodlands' Battery Recycling Program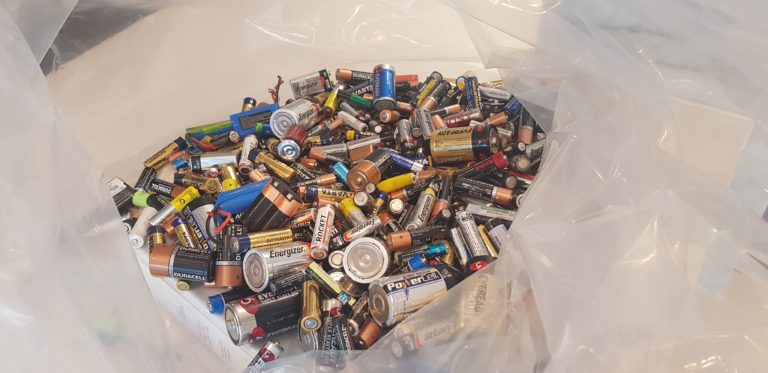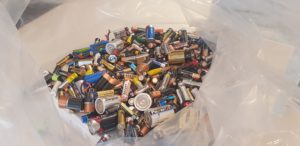 Regis Woodlands (WA) commenced the Battery Recycling program in December 2018, which saw the City of Stirling provide a red battery bin for the home to place in the front foyer. This initiative was then advertised on the Resident & Staff notice boards, via newsletters, web TV and memos.
The nursing and care staff have been involved and are using the bin to dispose of batteries from residents' hearing aids, batteries from equipment on the floors and also bringing their batteries in from home to dispose in there. Residents welcomed the idea and have requested their family members to save batteries at home and bring them in for recycling. Since December the home has collected over 15 kg of various types of batteries, including mobile phone batteries, hearing aid batteries etc.
A resident at Woodlands came out of his room with a huge bag of batteries which he said he had been saving for several years as he didn't want to bin them for environmental reasons. He said "I have been saving batteries for years wondering where I can safely dispose of them, as I did not want to just throw them in the bin. I feel better now knowing we have this bin available to recycle."
Kellie, Receptionist, sees Residents, Staff and Family members often placing their batteries in the recycling bin. She said "upon opening the bin and seeing the amount of batteries that we have collected, I feel grateful that Woodlands has saved so many batteries that could quite possibly have had a significant impact on the environment."
Dawn, Registered Nurse, said: "It's great as now we have somewhere to dispose of the residents' hearing aid batteries, camera batteries, BSL batteries and other batteries we clinically use on the floor."
Annie, Club Services Manager, feels Regis is heading in the right direction with the Sustainability Program and all the new initiatives being introduced at the home. "The battery recycling idea is fantastic. My son uses lots of toys that use batteries and I bring these in all the time to recycle."
Environmental Leadership Award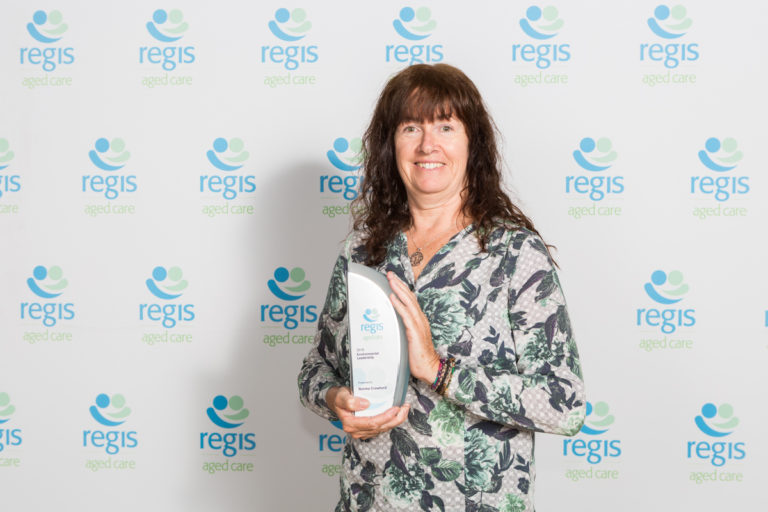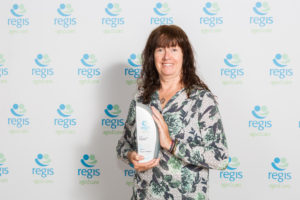 For years Regis has honoured exceptional employees and volunteers through our National Staff Awards. In 2018 we introduced a new category in the Awards – the Environmental Leadership Award. This award is for outstanding achievement by a Regis team/group of employees in the implementation of environmental sustainability initiatives.
Norma Crawford, Lifestyle Assistant at Regis Port Stephens (NSW) won the inaugural Environmental Leadership Award for implementing a number of environmentally-friendly projects at Regis Port Stephens including:
Setting up a large tub in the staff room for employees and residents to place old newspapers, magazines and cardboard in. Every week Norma collects that paper waste and ensures it goes direct to the recycling centre.
Setting up small coloured tubs in each of the aged care home's eight wings for employees to put in used batteries and hearing aid batteries; she then takes these items to the recycling centre.
Collecting and disposing off all the home's coffee pods from our two coffee machines and ensuring they are taken to the recycling centre.
Replacing plastic bags with reusable non plastic bags and giving those to the residents.
Sourcing native trees for the garden and replacing trees destroyed during recent storms.
Along with her role at Regis, Norma is an active volunteer in the local community. She is a volunteer wildlife rescuer, carer and rehabilitator of wildlife. This year she has been involved in numerous sea turtle rescues and is currently lobbying and organising to create a sea turtle hospital in the Nelson Bay area. Norma also volunteers with the local Sea Shelter and Port Stephens conservation group, participating in clean up days focusing in on the removal of plastics in and around their beaches.