Regis Family Update:
COVID-19 prevention and support
22 May 2020
I hope you are all keeping well as we settle into our new normal. Restrictions are easing across the country which is a relief for many of us. I am grateful that we are in a country that is well placed to respond to cases of COVID-19 quickly and effectively.
We must remember that COVID-19 still poses a high risk, particularly to the most vulnerable in our communities. As a result, our visitation restrictions and vigilant screening programs remain in place.
A reminder that you must have an up to date flu vaccination (or approved medical exemption) in order to enter our residential aged care homes. This is a Government mandated public health order across all States and Territories.
As always, Regis' highest priority is the safety and wellbeing of our residents, clients and employees. Thank you for partnering with us to keep our homes safe places for our residents and employees.
COVID-19 in Aged Care Homes
A number of residential aged care homes and public locations have had confirmed COVID-19 cases across Australia.
We are asking all family members, visitors and our employees to not enter any Regis home or service if they have visited an impacted home (or location) within the last 14 days.
Protecting aged care residents relies on all of us following simple rules every day, including
Staying home where possible
Practicing social distancing when you do go out by keeping at least 1.5 metres between yourself and others
Practicing frequent hand hygiene including washing your hands often with soap and water or an alcohol based hand sanitiser such as before and after eating and when you have been out in public
Avoiding contact with other people and staying home if you are unwell
Covering your coughs and sneezes with your elbow or a tissue
Maintaining social connections through a variety of means including phone calls, letters, video calls and short visits
You will be directly protecting our residents by following these simple rules.
National Volunteer Week
This week is National Volunteer Week. I would like to thank all 834 Regis volunteers who are an integral part of the Regis family. Their love of our residents and the joy they bring to our homes are valued by us all.
I am particularly grateful for our volunteers' continued support during these challenging times. They have come up with creative and innovative ways to keep their connections with our residents strong and continue to provide companionship in different ways. We look forward to welcoming our volunteers back into our homes once it is safe to do so. You can watch a video thanking our volunteers on our website at www.regis.com.au/national-volunteer-week-2020
Regis' clinical support programs
High quality clinical care is an integral part of the overall care and wellbeing of our residents and clients. I am proud of the programs and support services available for our clinical teams at Regis, such as our Clinical Support Team and our Nurse on Call service.
The Clinical Support Team (CST) is a team of senior clinicians across Regis that provides on site clinical expertise and support to our Clinical Managers and Registers / Enrolled nurses in our residential aged care homes and Home Care services.
Nurse on Call is a phone service staffed by senior Registered Nurses with extensive aged care experience. Our clinical teams in our homes are able to call the line outside normal business hours. This Regis specific service ensures we maintain the highest standards of care, and clinical outcomes for our residents, day and night.
Our new Executive General Manager of Clinical and Care Practice, Melissa McDonald, joined us in mid-March and has been working closely with our teams to tailor our prevention and response plans for COVID-19. Melissa brings with her 30 years of experience in nursing and clinical care. Our new National Manager of Infection Control, Helen Finlay, has also been an invaluable support for our homes with her specialist knowledge around infectious disease prevention and control. Helen was a Regis Facility Manager prior to moving into this role, which has provided important insights into the day to day running of our homes and how to best apply our infection prevention and control measures.
Both of these roles were planned before the emergence of COVID-19. Melissa and Helen commenced in their roles in the middle of our intense planning and response work and both have worked tirelessly to support the safety and care of our residents, clients and employees.
We recently celebrated International Nurses Day and I would like to acknowledge all of our nurses for the important work they do, in partnership with our other team members, to care for your loved ones.
Thank you for your feedback
Thank you again for your feedback, which has helped shape our responses and allowed us to keep improving our care and supports.
Your feedback is extremely important to us and we take it seriously. Please talk to your Facility Manager if you have any needs, questions or concerns.
We understand you may want to give that feedback to an independent person. Regis Shareline, run by STOPline, is an independent service you can contact if you would like to provide feedback but do not feel comfortable raising it directly. You can call 1300 987 621 or email shareline@stopline.com.au
Please take care and stay safe.
Linda Mellors
Managing Director and Chief Executive Officer


Regis Volunteers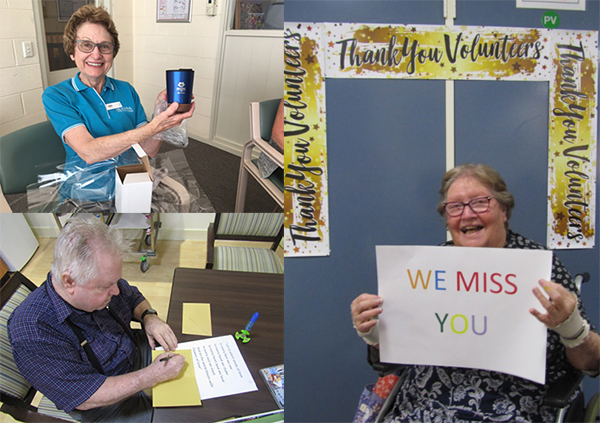 Our residents prepared gifts and cards for our wonderful volunteers.
Feedback
"Could you please pass on a big thank you to you and all the caring staff who work at Regis.

Mum called me today to tell me that she's had her hair cut, played bingo and had breakfast and lunch with her new friends. She also told me that she's very happy where she is and she sounded it.

To be able to relax now that I know that mum is being taken care of has taken a huge burden off my shoulders and to know that she's in a fabulous facility that she loves makes me happy.

Thank you to you all!"

Gae, Regis Salisbury QLD
COVID-19 Survival Guide
A COVID-19 Survival Guide has been developed to help you find the support and services you need throughout this time.

To see daily updates of our activities follow us on: