COVID-19 Update
23 March 2020
Thank you for your continued understanding and support as we manage this rapidly changing risk to our community.
The virus continues to spread across Australian communities with the number of those infected rising daily. We must all do our part to continue managing the risk and delay the spread of COVID-19 in our communities. This will allow our hospitals and aged care homes more time to prepare and the ability to manage demand.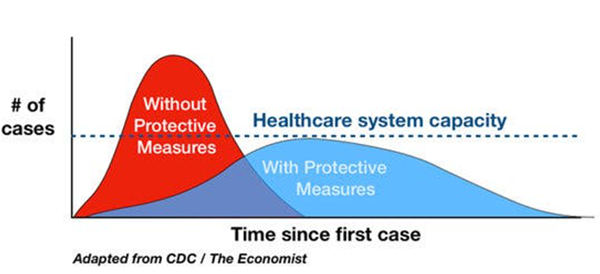 Critical to this is practicing physical distancing as much as we can to minimise the spread and impact. You can watch a fantastic explanation of why physical distancing or social spacing helps us here.
We have implemented a number of ways to help flatten the curve at Regis including stringent access controls at our homes and physical distancing processes for employees and residents. The health and safety of residents, clients and employees is our first priority and we appreciate your support in the measures we are taking.
We are assessing the stringent access controls situation daily and will review our position around the 14 days stringent access controls over the course of this week. I anticipate there will be more information to inform our decisions going forward.
I hope you understand why we took early action to protect our residents, clients and employees based on the evidence from other countries affected before Australia. I do not underestimate the impact on our residents, clients and families or indeed the entire community that is having to make adjustments to daily living in the interests of protecting themselves and others.
Note that no Regis residents or employees have tested positively for COVID-19 at this time.
Employees
We recently required our entire team of over 9,000 employees to attend an extra hand hygiene assessment and were extremely pleased that nearly 95% of Regis employees completed this in under a fortnight. The remaining employees will complete the assessment when they are next in the workplace. Ongoing additional education around infection control and hand hygiene is being delivered to ensure all employees remain cognisant of the best practice standards. We have enough supplies at all our homes to ensure our employees and residents are equipped to assist in preventing the spread of diseases and are constantly reviewing stock availability.
You will have heard of national shortages of personal protective equipment, such as masks, and we are monitoring our stocks daily. You will no doubt have heard why PPE is being reserved for health and aged care workers and the people we care for. We have been able to source additional stock from different suppliers to ensure we have sufficient stocks.
We are working hard to ensure the mental health of our employees is front of mind throughout these challenging times. A number of initiatives are being rolled out over the coming days and weeks to ensure our employees feel supported and secure as they work on the frontlines to protect our residents and clients. This includes regular updates and wellness checks.
Again, I offer my thanks to the many residents, clients and families who have provided messages of support and encouragement to our carers, support teams and managers. Your messages have a much greater impact than you can imagine.
Lifestyle
To support our residents' mental health, we are continuing to look at ways to maintain connection between our residents and their loved ones. Additional electronic devices such as iPads and Surface Go tablets have been ordered so that there are more options to connect. Please remember that phone calls, emails, and video connections are crucial at this time. Physical distance does not need to equate to social isolation.
We have planned different activities to keep residents connected and entertained in a safe way and will finalise our lifestyle calendars in the coming week, which we will share.
Here are two examples of activities over the past week (shared with permission):
1. At Lutwyche, residents and employees have been busy keeping the mood upbeat and sharing important messages with families and friends with our 'What makes you Happy?' initiative.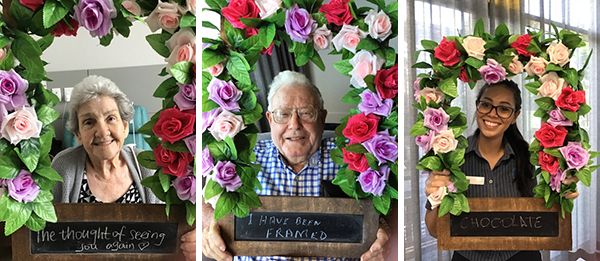 2. Hornsby residents and employees provided words to the world! "We will continue to care for each other, support each other, laugh together, get outside together, and enjoy each other's company. We hope you are doing the same, and we send our love and care to you all as well".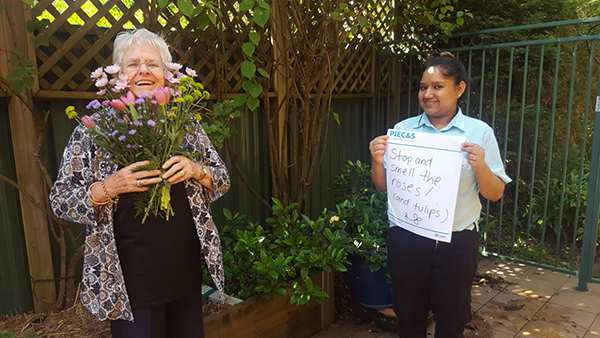 We appreciate your support during this challenging time for our community.
As always, please contact us if you have any concerns or needs and we will respond to you promptly and respectfully.
I would like to take this opportunity to also thank our residents and clients for their wisdom and guidance. While for many of us, this is our first experience of a complete global threat, our residents and clients have broad experience and wisdom to offer.
Please, stay safe.